TYRE SHOPPING- BEING A SMART TYRE SHOPPER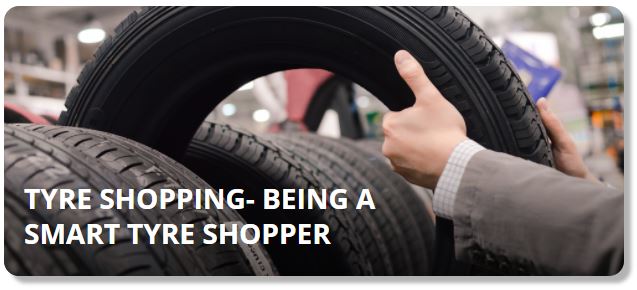 Looking to buy some tyres for your vehicle but don't know where to start? Let our tyre shopping guide help you navigate the world of tyres. We will provide you with important information like tyre types, how to buy tyres and tyre replacement.
WIDE RANGE OF TYRE TYPES
Just like many other vehicle components, tyres come in all shapes and sizes, so it's important to have at least some basic understanding about them before you start buying.
The following tyre brands are all reputable and backed up by industry:
Toyo
Kumho
Goodyear
Dunlop
Maxxis
Cooper Tires
Mickey Thompson
Kelly Tyres
Vitora
Falken
Pirelli
Bridgestone
Hankook
Yokohama
HOW TO BUY NEW TYRES
Considering there is such a wide range of tyres it can really leave you feeling overwhelmed. Here are some best practice tips to help you purchase your tyres:
Buy the correct ones suitable for your vehicle. This is important.
Trust in good brands like Yokohama and Bridgestone. They are trusted for a reason.
Don't just go for the 'cheap ones'. Buying cheap often means risk and you don't want this.
Buy a matching set for optimum performance and service.
LOOKING AFTER YOUR TYRES
There are certain things you can do to help you look after your tyres and help prolong their longevity. Some of these include the following:
Check your tyre pressure regularly (at least once a month) as tyres lose pressure all the time. A tyre at the wrong pressure will wear out faster and could put your safety at risk.
Get your tyres rotated as this will ensure they wear evenly. They should be rotated every 10,000 to 12,000 km, or every six months.
Maintain tyre balance as this is crucial to getting the best out of your vehicle. Not having this balance is a big contributor to tyre wear.
Check your tyre trends to detect any potential problems. It's best to check them at least once a month, as well as before and after long trips.
WHAT SPEEDS UP TYRE WEAR AND TEAR?
By avoiding or at least decreasing the following factors you will find that you greatly reduce your tyre's wear and tear:
Fast driving on highways as your tyres have to work more.
Driving in the city as this causes more sliding friction due to accelerating and braking more often.
Not replacing them every 5 to 6 years as a general rule.
Driving in rough landscapes and in rough weather conditions.
BUYING REPLACEMENT TYRES
When the time comes for you to replace your tyres, keep in mind the following advice to save time and money:
Replace all four at once for best handling and control.
Make sure they match, for obvious reasons.
Put new tyres on the rear axle for better traction and stability.
Their load-carrying capacity should be equal or greater to what the original equipment manufacturer stipulates.
Buy from a reputable dealer with experience and good customer service.
KNOW YOUR TYRES
By now we hope you have a much better understanding of tyres. For extra information on them, Contact the tyre experts.