What's happening in Craig's World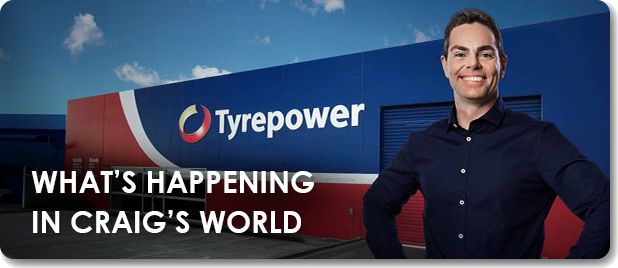 Over the past couple of decades or so I have been incredibly lucky, and humbled, by the fact that I have won races at just about every track in Australia.
But there is one track where victory has eluded me and that's at the Townsville street circuit.
I've been second there a couple of times but never won, so I went there this year hoping to tidy that statistic up!
Unfortunately, though, I wasn't able to break my victory drought, although we ended up having two good races there.
Ironically, given the number of cars I passed on both days, if I'd qualified better and passed the same number of cars, I could have racked up two wins!
In reality it's never that simple of course … for both races in Townsville we qualified poorly, which has been our Achilles heel this season.
And once you start back in the pack in the tightly-competitive Supercars field, there's only so much progress forward you can make.
For various reasons we just didn't get the speed out of the TeamVortex Commodore in qualifying trim in Townsville but come both races, we turned it around. The car was fast and consistent, good on its tyres and, combined with a great strategy from the team, we managed to climb back into the top 10 on both days.
Supercars is so evenly matched that you only have to be slightly off it in pace, only a tenth of a second or two, and that can cost you three or four rows on the starting grid. And the same issue means you have to have a real speed advantage to pass, because the field is so similar in performance.
That's the challenge and what I love … I'll just have to get that Townsville stat sorted next year!
BEFORE WE headed to Townsville I got the opportunity to try our new Gen2 race engine for the first time.
Controversially in some quarters, it's a turbocharged 3.6 litre Holden V6 rather than a V8 and we're developing it jointly with General Motors, with the intention of racing it as a Wildcard entry for the first time in 2018 in the all-new Commodore before it makes its full-time debut in 2019.
Our first development engine was fitted to the team's Holden Sandman Ride Car, which is basically an old Supercar wearing a panel van body, which we use for passenger ride days and some fun stuff.
We spent the day testing the new engine behind closed doors at the privately-owned Norwell Driving Centre track on the Gold Coast.
For a first hit-out the day went well but that's all I am allowed to say right now, as we're all sworn to secrecy!
Tell you more when I can.
IS IT JUST me or has courtesy disappeared from our roads?
Once upon a time, most people who let you in from a side street or allow you to merge in traffic, and when they did your response was to give them a friendly wave of thanks.
These days, the 'wave' seems to have disappeared … even if you let someone in, nine times out of ten they won't say thanks, give you the wave or even acknowledge that you helped them.
It's a shame as a simple wave of thanks makes everyone feel good, and it's a handy gesture to use too if you accidently make a mistake in traffic and do the wrong thing by someone else. A quick wave of apology goes a long way.
Sadly, most of the gestures you see on the roads today are a lot less friendly than the wave and often a trigger for road rage, another reason to encourage the wave to diffuse frustrated drivers.
Bring back the wave I say!
Keep smiling.
Craig