WHAT'S HAPPENING IN CRAIG'S WORLD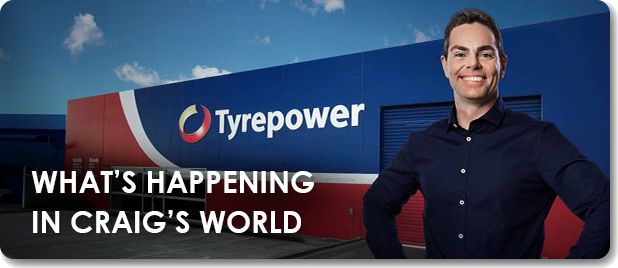 Many things play their part in motor racing success, most importantly performance, preparation and people. Get that mix right and you will be visiting the top step of the podium regularly.
But sometimes luck plays its part too … occasionally good, often bad … which is the story of our second race at the recent Sydney Motorsport Park round.
Race one had gone okay … we'd qualified 10th, rather disappointingly, but at that stage of the weekend we'd not really got the speed out of the TeamVortex Commodore we'd hoped for.
In the race we made good progress and grabbed 7th by the end, and I felt there was plenty of room for improvement in Sunday's second race at Sydney Motorsport Park.
In qualifying, though, I made a couple of mistakes at the key moment and we ended up starting 14th … no-one to blame but me on that one.
But the boys had a great strategy going and from the start of that second race at Sydney Motorsport Park we made good progress up the field, the car was good, and we were optimistic of a strong result.
Unfortunately, and this is where the luck comes in, at around half distance we hit an engine problem. A rocker had broken inside the engine and at first it looked like we were out (of the race), but the never-say-die Triple Eight crew swung into action, torn the engine apart and replaced the offending rocker.
It was just plain bad luck that it broke … we don't normally break rockers, we don't normally have any engine problems at all, so at this stage at least we think it was just a random dud component. It could have been in anyone's engine but it was in mine!
We lost heaps of laps doing the repairs before we could re-join the race, but at least we finished and got some points – points that might be critical to our position at the end of the championship.
A couple of weeks earlier we'd been at Queensland Raceway, the team's Test Track, though truthfully not a lot of testing gets done these days compared to what I did at the start of my career.
Back then, teams tested all the time but these days it's heavily restricted to keep costs down, so having a track you test at doesn't really give you the advantage it once did.
Anyway, we had a strong weekend at "QR" (as everyone in the industry calls it) with a fifth and a sixth, though most importantly we were contenders throughout both races and contested for the podium. The speed wasn't quite there but certainly it was a more competitive run than we'd had for a while.
I recently made a visit to the Tyrepower store in Berwick, in the outer east of Melbourne.
Typical Melbourne, it was sunny sometimes, overcast others and a bit windy all day, not to mention cold compared to home (!), but it was a fun day nonetheless.
Owners Peter and Rowena Rasmussen were fantastic hosts and had lots of things happening for the large crowd that attended on the day.
There was a sausage sizzle happening with the local scouts helping and getting the proceeds, lots of freebies and giveaways for those that came, plus some cool cars to look at.
I spent my day posing for pics, signing everything and anything – including a couple of cars!
It was fantastic to see how many people turned up on the day, so it was great to see what a big success it was for Tyrepower Berwick.