MUST HAVE CAR GADGETS OF 2017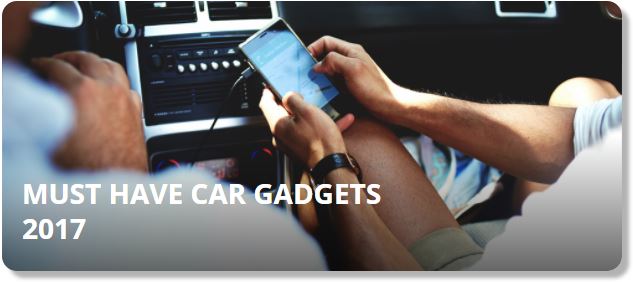 Your driving experience is going to change forever with the latest and greatest car gadgets being released in 2017. Not only are these gadgets affordable, they are helping drivers with their overall driving experience. Technology is changing the way we drive, and helping us in situations where we need it most. If you notice you are becoming more distracted as you drive, it is time to invest in quality gadgets that will keep you focused on the road.
SMARTPHONE MOUNT
It has been proven that distracted drivers are more likely to be involved in a serious car accident; especially when mobile phones are involved. However, thanks to the makers at iOttie, this clever smartphone holder is able to fit onto most vehicle makes, keeping your phone safely secured in the mount, you can get your destination without having to constantly look down. This mount should be mandatory for all drivers that use their smartphone as a GPS.
KEY FINDER
If you are like most drivers, at some point in time you have lost your car keys, and trying to find them is like finding a needle in a haystack. It's as frustrating as it gets and quite time consuming. However, thanks to technology, you will never have worry about losing your keys again. Called the Tile Tracker, you simply attach the tile to your keychain. Using Bluetooth connectivity on your smartphone, you can use the app to track your keys. So, the next time you misplace your car keys, simply connect your phone via Bluetooth and track the whereabouts of your keys.
BLIND SPOT MIRRORS
Blind spots are as dangerous as it gets on the road. Too often, accidents happen as a result of one vehicle being in the blind spot of another. Nowadays, most new cars come fitted with blind spot mirrors, which should be mandatory in all cars. If you drive an older car, you can get the same functional mirrors thanks to the team at Amper. Coming in a two-pack, these blind spot mirrors are fitted to your side mirrors, providing you with the necessary vision as you drive.
CUSTOM COIN HOLDER
Never lose your coins again with the Custom Accessories Coin Holder. Easy to fit in your centre console, this coin holder is a must for anyone who is tired of having coins rattling in their car. It is the perfect solution to keeping your car free from coin jiggling noise, and won't impact on your other accessories. A simple installation of this holder takes just a couple of minutes.
These gadgets are helping change the way we drive on the roads. However, as much as we love new technology, the one thing that will always be the same is Tyrepower's products and service. No matter where you are around Australia, your nearest Tyrepower centre is just a phone call away. Get in touch with us on (08) 8354 4580 and we'll help you get started.