TOP CAR TRENDS 2017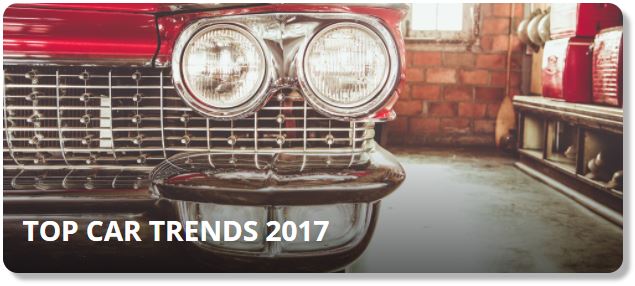 At the halfway point of 2017, the motoring business has seen some interesting trends emerge that are revolutionising the industry. Some for the better, while others are questionable. However, when new trends emerge, many tend to stick around and evolve. Here we have listed some of the latest trends to hit the car scene in both Australia and abroad.
THE BLOCKCHAIN
I know what you may be thinking, and no, it has nothing to do with heavy chains in your car. The blockchain is a new technology that is changing the auto parts industry. When it comes to getting new car parts, the supply chain is rife with counterfeit parts, which may damage your car. The blockchain helps suppliers keep on top of the parts that are being sold, ultimately helping consumers avoid counterfeits.
RESTORING MODIFIED CARS BACK TO STOCK
If you have an old muscle car that you want to restore back to its former glory, stock is the new modification. Many car enthusiasts, especially those in the market for classic muscle cars, are looking for original parts and condition. In fact, go to some car auctions and the price of an original GT can set you back close to a million dollars.
EXTERNAL SPEAKERS
Although it probably hasn't had a lot of attention, USA vehicle manufacturer Saleen has started fitting their electric vehicles with external speakers. Why? Many electric cars aren't heard by people on the roads, which means the chances of a fatality is likely. Although, not as loud as expected, the speakers do have a future with cars, and who knows, maybe one day we'll have music blaring outside our cars.
TYRE WRITING
Once part of the advertising on F1 cars, tyre writing is slowly making an appearance on road tyres. Many car owners are using pen to colour in the manufacturers name on the tyre, making it pop for others to see. Popular in the 1980's and early 90's it is making a visual comeback. Whether it stays popular remains to be seen.
COSMETIC ENHANCEMENTS
Think of this as plastic surgery for your car. Track Inspired Cosmetic Enhancements or Trice, are becoming very popular on both Mercedes and BMW's. Some of the trice modifications of these cars include:
Non-functional canards
Ducktail spoilers
These aerodynamics have been most prolific on the Mercedes C63 AMG and the BWM M3 GTS. If you are looking to add a sporty feel to your car, these popular modifications will ensure you have heads turning on the road.
3D PRINTING
Already used in a number of industries, the automotive industry is reaping the benefits of using 3D printing. Since its introduction, 3D printed parts are making vehicles much safer as they can withstand heavy collision impact.
Trends in the automotive industry come and go, but one thing will always remain the same. And that is Tyrepower's commitment to providing the best service, products and advice. To find out more call us today.