Tyrepower Dash for Cash prize money to go to cancer research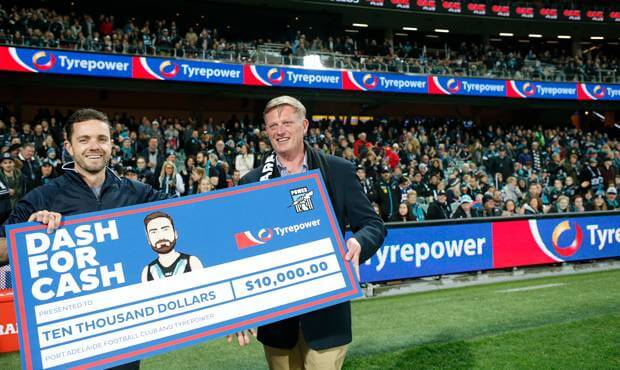 INSTEAD of taking the money and running, Tyrepower's Dash for Cash winner, Travis Jones has selflessly donated his entire prize pool to cancer research.
Throughout the season, one fan was chosen at random from the crowd at half time of each home game to race against Charlie Dixon (or at least an LED of his face) to try and beat him in a 100m dash.
Times were recorded and the three fastest raced off on Saturday night for the chance to win the cash.
Jones beat out David Sime (second) and Amanda Watts (third) to take out first place and was presented the cheque by Tyrepower General Manager, Richard Ellery on the night.
Tyrepower was delighted by his decision to donate the money to charity.
"Congratulations to all the participants over the season and to the Tyrepower Dash for Cash winner, Travis," Ellery said.
"The Tyrepower dealers and I are moved and thrilled by Travis' incredible gesture to donate his $10,000 Dash for Cash winnings."