What's Happening in Craig's World - October 2017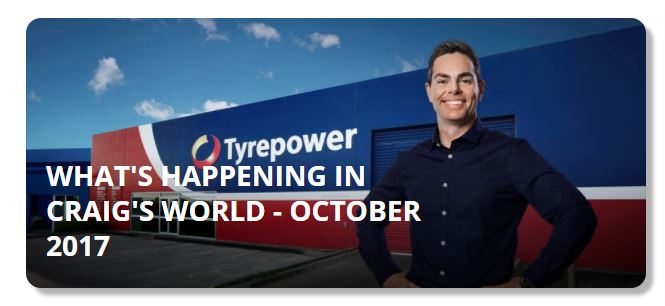 Bathurst 2017 was certainly not the sort of day we were looking for this year.
If you saw it, you will know that the race was held in atrocious conditions … after three days of dry running during practice and qualifying, raceday dawned very cool and sure enough, just as the formalities on the grid finished, the rain started.
Bathurst is always about strategy but the arrival of rain mean that the teams up and down pit lane had to reassess their starting driver and game plan when the race was declared 'full wet' for the start.
The race was as wet as I can remember a Bathurst being.
After qualifying badly last year and then climbing back through the field quickly into contention, only to have a gear selector shaft break, we felt going to Mt Panorama this year that we would be in good shape.
And early in the week, running in the dry, we were there or thereabouts … on pace our TeamVortex Commodore was certainly a top ten car and that's the sort of starting position you need to put yourself in contention for the win.
We also had a late curve ball during last practice on Friday, when we cracked a brake rotor. We weren't the only car to suffer this issue, so it was recommended that the affected teams change our brake pad type. No-one wants to see an exploding brake rotor at a place like Bathurst!
That obviously affected the set-up of the car, so we flying a little blind after that but still confident.
In qualifying it all started to go pear-shaped when on my best lap, on a time good enough to put us in the Top Ten Shootout and using the new brake materials, I nipped a brake and ran off into the chase sandtrap. Although I didn't get stuck, the lap was ruined and with time running out unfortunately I didn't get another proper run.
That left us to start Bathurst from 19th position on the grid … a long way back from where we are used to.
Unfortunately, we struggled with the car almost from the start of the race … it just wasn't happy in the wet at all and we made little progress up the field from very early on.
Co-driver Steve Richards hopped aboard and he didn't have much more joy than me, we just weren't quick enough in the wet conditions and there wasn't much we could do to improve our position.
Turns out that there was something not quite right with the car, which meant no matter what we did we just couldn't be fine-tune it to the conditions … it was a struggle all day and there wasn't much we could do about it.
In the end, 11th wasn't bad considering all that had happened.
Of course that's also disappointing because Bathurst is the one that counts … it's the race that we all want to win. No matter how the rest of your year goes, if you win Bathurst it's been a good year!
Now we look forward to the rest of the season with races on the Gold Coast, in New Zealand and at a new event in Newcastle, where we'll be racing on a new track laid out around the CBD and oceanside streets.
We'll put our Bathurst disappointment behind us and focus on results for the last three events of the season. Our eyes are forward in the development of the 2018 car. I know that we haven't had the best run this year but the team is strong and I'm 100 percent committed!
Game on at the Gold Coast!
Keep smiling.
Craig.