WHAT'S HAPPENING IN CRAIG'S WORLD - NOVEMBER 2017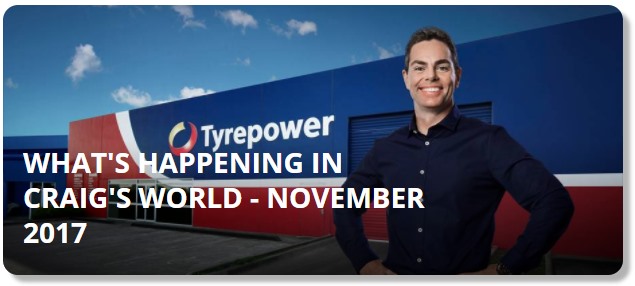 The importance of having tyres with decent tread depth has certainly been underlined to me over the past two Supercar race weekends.
As you already know, this year's Bathurst 1000 was the wettest in living memory – possibly ever – and then, amazingly, the same thing happened just two weeks later at the Gold Coast 600!
Friday in Surfers Paradise was warm and sunny but Saturday was a deluge … it rained and rained and rained, just like Bathurst.
And on a street track like at the Gold Coast, that's an even bigger drama because the concrete barriers that define the track also trap the water in. So there was lots of standing water, lots of aquaplaning, and frankly it was amazing we didn't have any more crashed cars than we did.
Our day was safe and steady, co-driver Steve Richards did a great job in the tough conditions, moving us forward from 11th starting position before handing over to me.
In the end we finished seventh without taking too many risks and ensuring we had a straight car for Sunday, especially as the forecast was for a warm sunny day.
Sure enough on Sunday you'd never have guessed how dreadful the weather was on Saturday, and on a now bone dry track we qualified safely in the top ten and then moved to third in the Shoot Out.
Richo started again and ran strongly behind the two Red Bull Holden Racing sister cars, and then I stepped in and upped the pressure … we were quicker than those two ahead but I couldn't find a way by without taking a big risk. And that's never a good idea when they're your teammates!
Anyway, unfortunately we lost some pace in the car in the final stint and ended up fourth, just one place off the podium. So, all round a decent weekend after a frustrating year.
There are now just two Supercar weekends to go, in New Zealand at Pukekohe and the Grand Final at the new street track in central Newcastle. My aim is to keep this momentum going.
JUST DAYS before the Gold Coast 600 we had confirmation of some exciting news … long-time supporter Autobarn has come on board as our naming rights sponsor for the 2018 and 2019 seasons.
Autobarn has been a personal partner for more than 15 years and has been a team partner for five years, but this will be a major step up in commitment and profile for the national automotive accessories retailer.
Our new program will be known as Autobarn Lowndes Racing although the new look of my new-generation #888 Holden won't be revealed until the early part of 2018.
It's partnerships like I have with Autobarn, and of course Tyrepower, which make what I do so rewarding and enjoyable.
Making a contribution via my promotional and branding activities, and being considered part of these successful businesses, is very satisfying.