TOYO TIRES HITS A SIX
Toyo Tires has announced a major sponsorship of the Big Bash League's Sydney Sixers.
The brand's iconic blue logo will feature on players magenta shirts and black pants as they take on the seventh summer of Big Bash Cricket.
The announcement coincided with the Sixers signing of brothers Mickey and Jack Edwards. The pair were dropped to the launch by their parents in a Toyo Tires equipped SUV.
Toyo Tires Australia marketing manager Jose Angeles said the sponsorship would make tyre safety topical during the summer road trip season and extend the brands support of elite sports.
"Cricket is Australia's most played sport. Big Bash League is one of the fastest growing games, it made sense for Toyo Tires to pad up and join in this summer," said Mr. Angeles.
"Toyo Tires is All or Nothing. Behind every great player are parents like Mickey and Jack's. The all or nothing attitude is as much in the mums and dads driving kids to games, as it is in the athletes under stadium lights.
"We want to show parents and players we understand their journey and share their boldness and refusal to compromise," he said.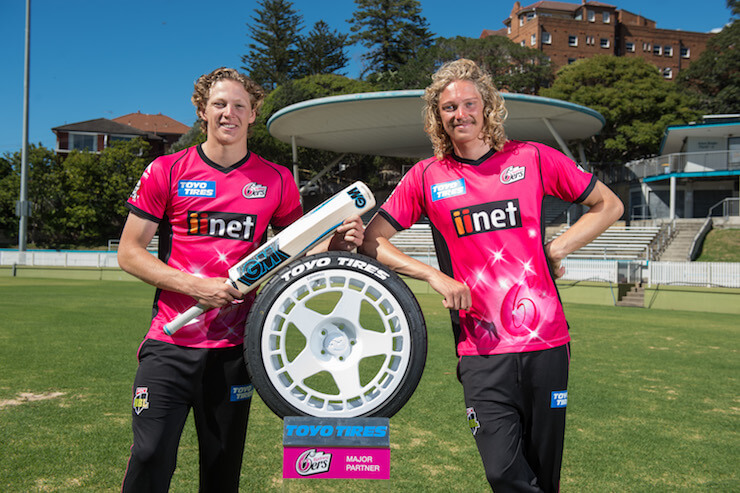 The tyre makers All Or Nothing campaign is set to commence in 2018, and is supported by Toyo's BBL 'Bash for Cash'. The Bash for Cash will give Sydney Sixers and BBL fans the all or nothing chance to win $100,000 at SCG home games.
A shot from a batsman into an oversized tyre at the SCG's cow corner will set the $100,000 prize off, with any registered fan a chance to take it all. The Edwards brothers tried out a pared back version of the contest at Manly Oval, with Jack sending the ball into the centre of the tyre almost immediately.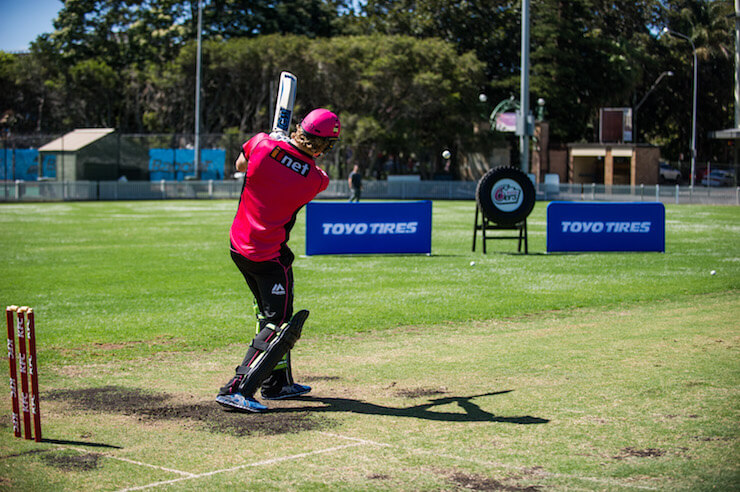 "We want to bring old school fun and fireworks to our BBL experience and give fans a shot at a century of their own," said Mr. Angeles. "Our 'Kick for Cash' in the AFL has proven to be a winner, and just like that promotion, we will be cheering every shot."
Sydney Sixers General Manager Dominic Remond said the Sixers were delighted to welcome Toyo to the Big Bash League. 
"I am thrilled to welcome Toyo Tires, a global brand, as our Major Partner," said Mr Remond.
"The Sixers are a family club, and Big Bash is a family game. Toyo tyres give families the road safety and driving performance they deserve. Toyo is a terrific fit for the Sixers. We share their all or nothing approach and look forward to sharing a fun-filled summer for the Sixers."
The Sydney Sixers join Toyo Tires' global roster of highly recognised elite sports properties including the GWS Giants, AC Milan, Leicester City FC, Boston Red Sox, Anaheim Ducks and motorsport series around the world.